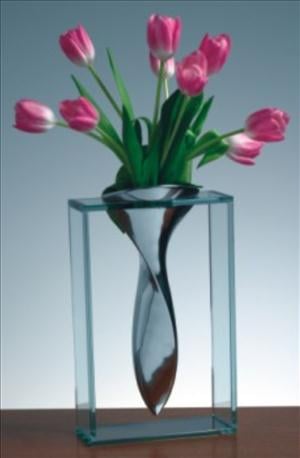 Celebrating the union of a happy couple is a wonderful occasion, and it should definitely be marked with a thoughtful gift that will remind them of the happy event for years to come. The perfect gift should have three specific traits: quality, appeal and a special, thoughtful touch.
To meet those criteria, the first step is simply finding high-quality, fine gifts that stand the test of time. Next, locate a gift that you think the couple would truly like or that fits in nicely with their lifestyle.
Finally, go above and beyond and give the gift a personalized touch with engraving. These fine personalized wedding gifts can be just what you're looking for, no matter who the lucky couple may be or what type of couple they are.
The Timelessly Elegant Couple: Hand-Cut Vase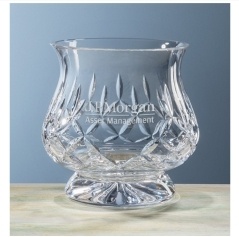 Some couples are the epitome of timeless, and they usually avoid trends in favor of classic staples. The bride is probably wearing a clean, sleek and elegant wedding dress in pure white, and they will likely decorate their new home in timeless designs and decor.
Add to their collection with something as classic as a bouquet of red roses: the vase. While you'll have plenty of choices to select from, consider a showstopping hand-cut crystal vase if you're truly out to impress. The traditional flared shape and the classic craftsmanship that goes into the design is unsurpassed, and customizing the vase ensures that the couple remembers your contribution to their very special wedding day.
The Foodie Duo: Engraved Crystal Platter
An old adage says that you eat with your eyes first, and any foodie couple knows that presentation is key whether serving up a hearty dinner or appetizers at a
swanky cocktail party.
With an engraved crystal platter, it will be easy to showcase food in its best light. The serving platter is large enough to use for all kinds of functions and events, and it can be engraved with a choice of names, the wedding date or anything else that reminds you of the happy couple.
The Oenophile Newlyweds: Crystal Wine Carafe
A staple on many wedding registries is a set of wine glasses or even champagne flutes, but the gift that can meet the demands of wine lovers while still coming as a surprise is the wine carafe or decanter.
A crystal wine carafe is a must for anyone who loves fine wine, as it allows a newly opened bottle to breathe, be exposed to oxygen and enhance its flavor before serving and pouring into glasses. This 48 ounce carafe holds more than a full bottle of wine, has an indentation for the thumb so that pouring is always smooth and can be engraved to give the already fabulous gift an extra something personal.
The Nostalgic Lovers: Curved Glass Picture Frame
Some couples are all about looking ahead to the future, but others are nostalgic for the past. You might know a couple about to get married that likes to reminisce about how they meet, what their partner was wearing on their first date or where they went to eat when their partner proposed.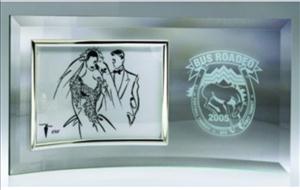 Encourage reminiscing about the wedding for years to come by buying these couples a picture frame. This curved glass picture frame is horizontal and looks perfect on a wide windowsill, the mantel of the fireplace or even right on the coffee table. Personalize it with a bible verse, the date of the wedding or the name of the newlyweds.
Whether you are buying a wedding gift for a foodie couple or a duo that is the epitome of classic elegance, one of these fine, personalized and attractive gifts will be perfect.