One of the keys to success in the business world is letting others know when their help or patronage has been appreciated. If you have a vendor that has routinely worked with you closely for years, a supplier that offers bulk discounts for materials or even a client that comes to your business time and time again, reward their continued support through corporate appreciation gifts.
Keep in mind that no two recipients are the same, which means that a generic one-size-fits-all gift won't be as meaningful. Think carefully about the personality, style and interests of the recipient in order to deliver personal, thoughtful and truly special corporate appreciation gifts.
Engraved Bamboo Plaque
If you want to recognize someone who has been instrumental to your organization, then buying a plaque can be just the thing. Have it engraved with details of the achievement or the contribution, the name of the recipient, the name of the company and the date.
While there are several different types of plaques that you can personalize, one of the most appealing for a younger, trendier or eco-friendly crowd is the engraved bamboo plaque. Simple and elegant without being too formal, this bamboo plaque will look at home in virtually any office or room where the recipient wants to show it off.
Personalized Beer Mug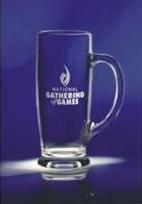 One of the most common corporate appreciation gifts is the coffee mug, which is typically available in a generic design. While coffee mugs can certainly be an appropriate gift in some cases, many people would be happier with a truly unique personalized beer mug.
Choose a large design that holds 18 ounces for a gift that will instantly become a person's favorite drinking vessel for water, ale or anything in between. Have it personalized with your company's logo for a subtle touch, or engrave the recipient's name to make it an even more personal present.
Engraved Crystal Jar With Lid
An unexpected and fun corporate appreciation gift is an engraved crystal jar complete with lid. On its own, this design is stunning and is definitely an impressive gift for any supplier or customer. However, what really kicks it up a notch is how you choose to personalize the jar set.
Engrave a name, a quote or even dual logos showing the relationship between two companies. Then, fill up the jar with a special selection of candies to add a bright and whimsical touch.
Best of all, turning this into a sweet candy jar means that it will have a position of pride in the office, and
Customized Name Plate
There are few things more personal than a name plate, which makes it the perfect gift when a business wants to honor or appreciate someone without appearing generic.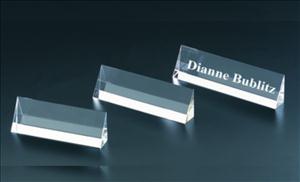 After all, it will be obvious right away that this customized name plate simply couldn't be for anyone else! A solid crystal nameplate is elegant and attractive, dressing up any desk instantly.
Engraved Crystal Globe
If you want to show someone that he or she is really one of a kind, give a gift that is just as unique. An engraved crystal globe, personalized with the recipient's name or company, is the ultimate way to display that someone is really the best on the planet.
Showing corporate appreciation is key, and gifts can be the perfect way to do so. However, generic gifts are easily forgettable and end up in the next garage sale. So make a better choice and give something unique and personal instead.