If you're buying a gift for someone with a deep love of food, you're in luck. Shopping for foodies is a breeze because there are so many great options to make cooking and entertaining more fun.
Whether you need a birthday present for someone who loves cooking and hosting dinner parties or a thank you gift for an amateur chef, selecting a gift based on someone's passion with the added bonus of personalization makes any gift more thoughtful and personal.
Check out these cool gift ideas for your favorite foodie!
Engraved Knife Set
Quality knives are an exceptional gift for a newly married couple or even fresh college graduates getting ready to move into their own place for the first time.
An engraved steak knife set, which comes in an elegant rosewood box, is an outstanding choice for anyone who loves entertaining. You can also have the box engraved with a special message and a meaningful date – birthday, anniversary, or graduation.
Personalized Barbecue Gift Set
Not all foodies spend their time in the kitchen; many prefer the smell of a smoky fire and food that comes fresh from the grill!
For backyard chefs who spend their weekends grilling delectable steaks or smoking up mouth watering ribs, a personalized barbecue gift set is a fantastic present that will definitely be appreciated.
A laser engraved bamboo barbecue gift set comes complete with a grill spatula, tongs and a babecue fork, and it comes beautifully packaged in a bamboo box you can have engraved with the name of the uber griller plus the date, the occasion for the gift, or a message that you know will bring a smile each time it's read.
Customized Wooden Kitchen Measurement Conversion Plaque
The baker in your life no doubt spends a lot of time measuring out exactly the right amount of ingredients and sometimes converting those ingredients to double or triple a recipe to create the perfect number of cupcakes for a birthday party, petifores for that baby shower or pies for Thanksgiving dinner.
The gift of a personalized wooden kitchen measurement conversion plaque will certainly simplify the life of the baker and he or she will love displaying this lovely personalized plaque in the kitchen.
The natural grain of the wood makes it a dazzling addition to kitchen decor, and the practical nature of the helpful conversions will make it a valuable addition to the baker's collection.
Add an extra personal touch by engraving the name of the recipient on the plaque or even adding a special message wishing them a happy birthday, graduation or retirement, whatever the occasion might be.
Engraved Olive Oil and Vinegar Set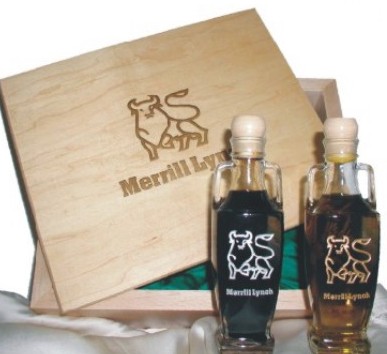 No matter how simple or fancy your foodie friend gets in the kitchen, he or she will almost certainly rely on staples like olive oil and vinegar. For a special gift that will get plenty of use, consider an engraved olive oil and vinegar set.
The clear bottles can be engraved with a name, a logo or a message, but the beautiful fresh colors of the olive oil and vinegar will still be visible. Packaged in a wooden box that also boasts a customized engraved message or picture, this set is a fantastic option that recipients will definitely appreciate and use practically every day.
Whether the foodie in your life is celebrating a birthday, an anniversary or a promotion at work, give a customized gift that is sure to be appreciated and used often. Olive oil and vinegar sets, a kitchen conversion plaque, a steak knife set or a barbecue gift set are all extraordinary choices to consider.