It's almost Father's Day, which means that children everywhere are scrambling to buy yet another tie or make a macaroni art project at school. Instead of gifting the same thing as you did the year before, and maybe even the year before that, think outside of the box.
A personalized gift means a lot more to a dad, and having something unique engraved steps up the quality even more. Find something that is personal and special, or something that aligns with their hobbies and passions.
Then, have it engraved so that your dad will remember the occasion, and your special relationship, for years to come. Still stumped? Here are some great ideas to get you started as you shop for the ultimate Father's Day gift this year.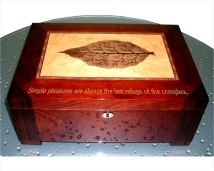 Any dad who smokes cigars knows that humidity is a stogie's worst enemy. Help your dad keep his collection in topnotch condition with a laser engraved humidor.
Whether you think he would prefer a sleek glossy black humidor or one with an Art Deco lid, you can have it engraved with a special quote, the date or just the name of your Dad. Stock it with a few new cigars to remind him who his favorite child really is!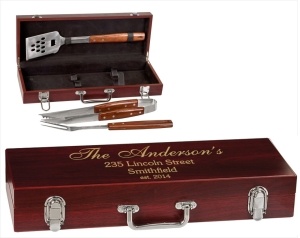 If the dad you're shopping for can be found around the grill whenever the weather is nice, then consider a gift that celebrates his passion for all things meat with an engraved barbecue gift set.
Stocked with a grill spatula, tongs and fork, this particular set comes complete in a rosewood box, and the lid can be personalized. There's even a handle, which makes this a portable gift your dad can use to show off at the next neighborhood barbecue.

Dads who unwind after a long day with a drink in hand will love having the engraved martini shaker and glasses set.
Start with the classic cocktail shaker, and add in two glasses etched with his name, a funny quote you both love or just a reminder of the occasion.
Don't be surprised when he drinks cocktails more often, just so he can have an excuse to use this stylish set.
A dad who can't help but admire motorcycles on the road or who refers to his own two-wheeled bike as his "baby" clearly has a passion for riding.
Celebrate that passion for all things speedy with a customized crystal motorcycle figure. This figure stands out and looks masculine and elegant at the same time. Have it engraved with a custom message on the base, and help your dad decide whether to display it in on the living room table or right on the mantle.
Whether your dad enjoys a nightly beer or sticks with soda, it will always taste better when it is sipped out of an engraved beer mug. Opt for an oversized stein that makes a serious impression, or choose a beer glass designed for a stronger English ale, a pilsner or a wheat beer.
Engrave the beer mug with a reminder to have a happy Father's Day, a family crest or even his name, letting everyone around know exactly who is lucky enough to have such a unique beer mug.
Father's Day is a time to let your dad know he is one of a kind, so don't settle for a cookie cutter gift.
Give a gift as unique as your father with one of these personalized and engraved options perfect for the occasion.