Receiving a promotion is a high point in anyone's career. Employers who want to keep morale high often opt to recognize their employees' accomplishments.
Here are some neat ideas to reward your dedicated employees that will stand out as true mementos far into the future.
Choose gifts of recognition that will match each employee's personality and have them engraved to make them personal and unique.
The Office's Social Butterfly: Engraved Glass Jar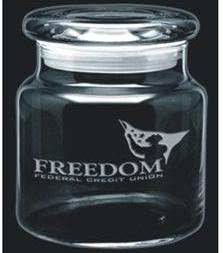 Social Butterfly types enjoy conversing with others and making connections, so a personalized candy jar to go on their desks will be a welcomed reward.
Others in the office will enjoy stopping by to indulge in a sweet treat from the jar and the recipients will proudly display this jar as a reminder of your appreciation and of their well-deserved promotion.
The New Manager: Engraved Crystal Globe Pen Set
Moving from an entry-level position into the managerial world can be a big change. For many employees, this promotion is a serious upgrade in terms of career potential and salary
.
It may also translate to a new workspace, perhaps going from a cubicle to a private office. If this is the case, gift the newly promoted employee with something that can spruce up his or her office and symbolize the new responsibilities of the position.
A crystal globe pen set looks professional and contemporary at the same time, and it is also very practical since no manager can do without a great pen. The base of the set can be personalized with the recipient's name or position engraved right on it, or you could have the company name engraved instead.
The Early Bird: Customized Glass Tuxedo Mug
While some employees might prefer to stay late, there are plenty who arrive earlier than necessary to tackle the day's tasks. It would be no surprise if a recently promoted employee was one of these hardworking early birds.
Since they probably wake up courtesy of coffee or tea, a wonderful promotion gift can be a customized glass tuxedo mug. Far from ordinary, this mug will stand out in the break room and be a wonderful reminder of the work that went into earning their promotion. Personalize the mug with the recipient's new job title, their name, a nickname or even a quote about hard work.
The Culinary Pro: Personalized Olive Oil and Vinegar Sets
Many offices have at least one employee who always packs the best lunches, volunteers to make cupcakes for work events and dazzles with tales of fine dining over the weekend.
If such a culinary aficionado is the promoted employee, then gift something that fits with their foodie tastes. Engraved olive oil and vinegar sets are certainly practical in the kitchen, but they are also packed in an attractive wooden box that can be personalized with the company name or even a logo.
Getting a promotion at work is a big deal, and employees deserve a token that symbolizes their achievement. Choose one of these personalized gifts depending on the tastes and personality of the recipient for a sure-fire success.