Perhaps the most common gift for a friend, hostess or loved one is flowers. A bouquet of flowers is sweet, thoughtful and widely appreciated, making it an obvious choice.
Unfortunately, showing up with a bouquet of flowers wrapped in plastic creates a minor dilemma for the recipient: Is there a vase somewhere, and do I now have to go rooting through cupboards to find it?
Instead of delivering just half of the perfect gift, complete it by presenting the recipient with both a dazzling bouquet and a beautiful engraved vase in which to display the flowers.
Best of all, the vase will last far longer than the blooms, serving as a permanent reminder of your thoughtfulness. Not sure if someone in your life would appreciate a vase and flowers? These examples highlight the people who would love such a thoughtful and beautiful gift.
Happy Anniversary, Honey!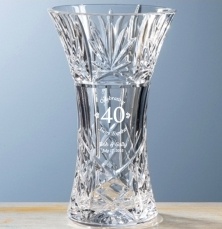 Flowers are a classic anniversary gift, but don't let the sentiment wilt after a few days. Place your lavish bouquet of roses in your spouse's favorite hue in a vase that will be displayed prominently in the home for years to come.
If you're celebrating a major milestone as a married couple, whether that is a decade together or just your first full year as man and wife, present your special someone with a hand-cut crystal vase.
Have it engraved with a personal message or the date of your wedding to upgrade it further and make sure it is a present they will never forget.
Congratulations on Your Retirement!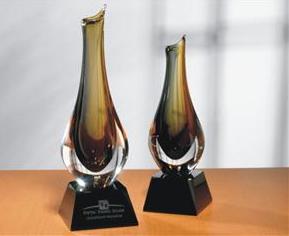 Retirement is a significant milestone, and it is important to find the perfect gift to highlight that achievement. While there are plenty of gifts you could choose from, most retirees already have everything they need, so it is all about finding something that shows them just how much you are proud of their hard work over the years.
Consider gifting a stunning bronze and gold crystal vase on a black base. This gift does double duty because it looks just as remarkable when empty as it does when holding flowers.
Yellow carnations look dazzling in the black and gold vase, and the base can be engraved with a personal message or even the company logo if the gift is from colleagues.
Wow, What an Achievement!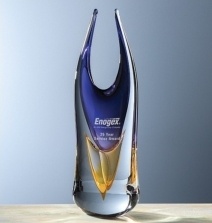 Part trophy and part vase, the amethyst and gold engraved art vase is a visually appealing gift that marks those special occasions in life.
Perhaps a good friend has just received a major promotion at work, or a cousin was able to raise a huge amount of money for charity by participating in a triathlon.
Whatever the reason, celebrate in style with this sleek vase that belongs in a prime position in any home.
Just Because I Love You!
Nothing is a more simple or appropriate romantic gift than a single red rose. With this single flower, you can reveal exactly what is in your heart.
Showcase the dazzling rose in a classic slim bud vase that can be reused every time you present a flower to your special someone. Engrave it with those three little important words "I Love You."
Thanks For Hosting!
Show your appreciation for the host with the most by bringing more than just a bouquet. Offer a bouquet placed within a gorgeous blue swirled ornamental vase. This large vase can hold a sizable bouquet, and it can even be personalized with the host's name or the event, such as Christmas 2016.
From birthdays to anniversaries to retirement parties, there are few gifts as welcomed as flowers. Upgrade the traditional bouquet with a beautiful engraved vase.
Add the thoughtfulness of a personalized engraved gift on the next important occasion in your life.