Trendy gifts are an obvious choice when you are looking for something that stands out, makes a statement and appeals to the recipient. Unfortunately, however, some of the trendiest gifts will also fade as they become outdated just a few years into the future.

The best choice for an unforgettable gift that can last is to choose something with a timeless design and a hint of contemporary style. Having it engraved simply goes the extra mile to ensure that the recipient keeps and remembers the gift for years to come.
These fantastic gift ideas offer timelessly trendy choices for the special people in your life.
Engraved Stemless Wine Glasses
Whether you're buying a gift for a newly-married couple, a retiree or anyone in between, wine glasses are a popular choice. Instead of going for the classic stemware, consider engraved stemless wine glasses.
For more than a decade, stemless wine glasses have been picking up steam and finding their way into the trendiest bars and restaurants around the world. Now, recipients can feature them in their own homes. Having these stylish glasses engraved makes them an extra special choice for any special occasion.
Engraved Stainless Steel Pocket Flask
As long as alcohol has been around, people have found a way to keep it near. When a young man graduates from college, receives his first corporate job, heads to the military or gets married, one of the most fitting and classic gifts is an engraved stainless steel flask.
In recent years, the steel flask has also become a trendy accessory, making this gift suitable for virtually any age. Have the flask engraved with the recipient's initials, nickname or a memorable date. Packaged and delivered in a velvet bag complete with steel funnel, it is hard to argue with such a fitting gift as this flask.
Engraved Triangle Crystal Bowl
Walk into any sleek office or tastefully decorated home, and there is a good chance you'll come across a glass or crystal bowl. Practical as well as decorative, they are a staple of home and work decor.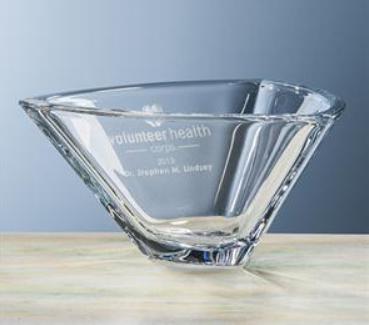 If you like the idea, but you want it to have a more contemporary slant, consider the engraved triangle crystal bowl. The unique shape adds a touch of trendiness while the engraving is subtle and classy.
Engraved Pepper Grinders
Whether you are buying a gift for a serious foodie or a professional chef, he or she will know the importance of adding seasoning and spice to life. Instead of ordinary salt and pepper shakers, gift flavor in the form of stylish engraved pepper grinders.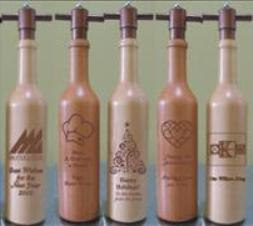 The sleek look adds style to any kitchen, and the engraving can range from a company logo to a special message for a good friend.
Engraved Red Pocket Glass Vase
A vase filled with flowers is one of the most versatile gifts on the planet, but some buyers don't want to give the ordinary. A red pocket glass vase brings with it a burst of color, adding life and beauty wherever it is placed. Best of all, the unique look and personal engraving means that recipients will always remember where the gift came from.
Timeless and trendy don't have to be mutually exclusive when it comes to buying gifts. From unique vases to personalized pepper grinders, the right gift can bridge the gap and be both appropriate and memorable whether it is for a friend, colleague, employee or family member.