In the spirit of International Women's Day this Wednesday we would like to showcase a few awesome awards that not only recognize the achievements of outstanding women, but also inspire other women to #BeBoldForChange. Regardless if you are a women entrepreneur, engineer or stay at home mom it is important that your successes and contributions be rewarded and recognized to completely shatter the glass ceiling for women everywhere.
Senior Women Managers Who Crush It!
High Heel Crystal Pump on Solid Crystal Blue Base Award
Celebrate the women in your organization who's accomplishments have rocketed through the glass ceiling, with an award that is uniquely feminine and beautiful. It's important to recognize these women's contributions in order to set the tone of the for the entire organization.  So give an award designed specifically for women. It will encourage other women to move up the corporate hierarchy and will speak volumes throughout the company and be even more influential as it spills out into society.
Spotlight Award for Business Owners
Custom Engraved Crystal Spotlight Vase
Recognize the top women business owners in your local areas by spotlighting their success and the value they bring not only to their business but to the greater community.  Amply the success of these individual members will inspire other women not only to succeed but to thrive.
---
Unique Personalized Awards for Police Officers
Crystal Police Car on Base Engraved with Badge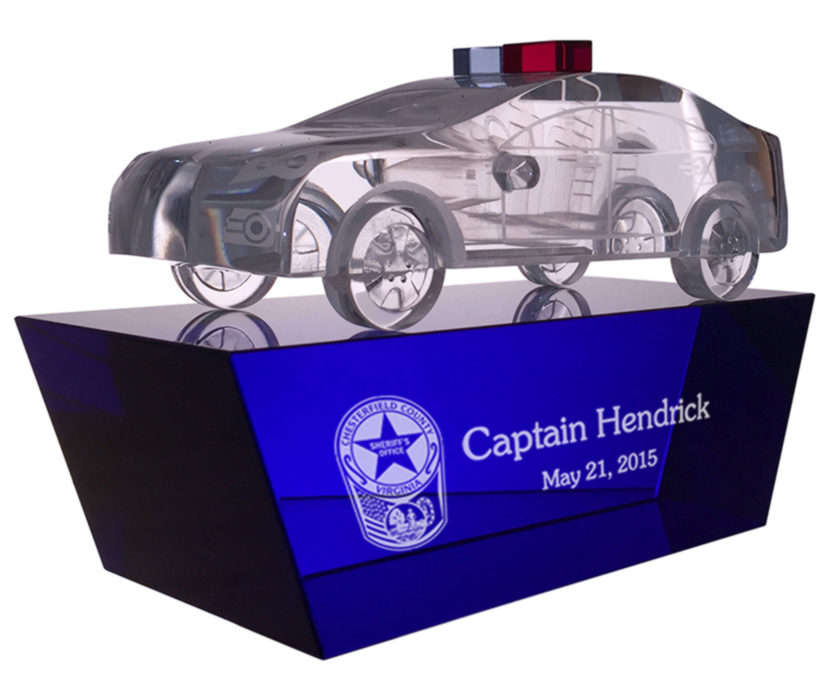 Honor the outstanding achievements of women officers who have distinguished themselves and others with superior attention to duty and effort.    Such special contributions deserve a unique and personalized recognition gift that is more than just a present it's a gift that is truly memorable.
Awards for Women as Physician Leaders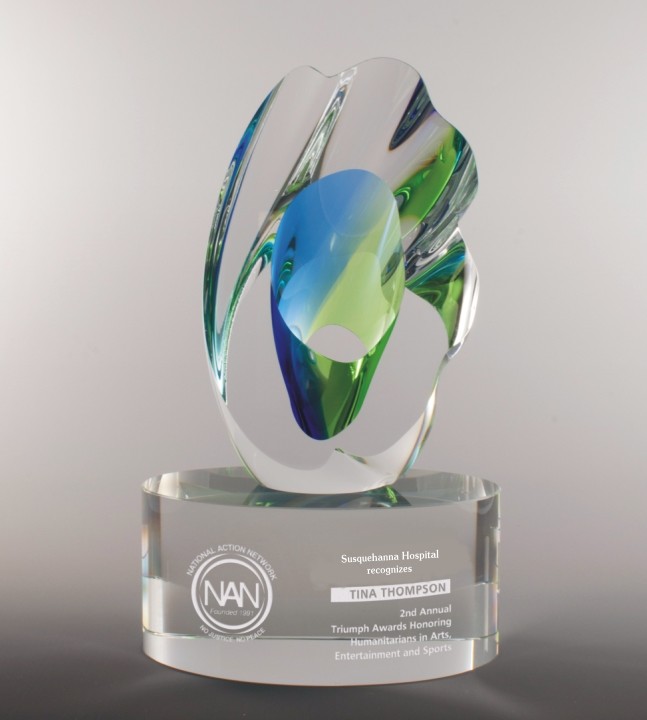 Celebrate the accomplishments of female physicians on staff by recognizing their achievements with awards that are as impressive and resilient as they are.     Female doctors have overcome many obstacles in order to practice medicine and it is important to recognize the positive impact female physicians make in medicine and the role models they serve to our sons and daughters.
Recognition of Mothers
And the most powerful position of all are Mothers, mother's have tremendous impact in shaping not only their daughter's lives but also their sons.  Bring attention to the importance of their roll by recognizing mothers, regardless of whether they have careers or not and their contributions to their family, schools, religious organizations, communities and future generations.
For more creative gift ideas…